Roof Replacement Services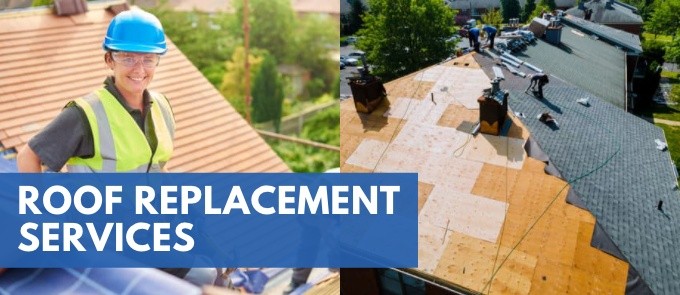 If the thought of roof replacement has crossed your mind, your roof is probably in such bad condition that repair is not a good idea or is outright unfeasible.
To choose between roof replacement or repair, you need to ask yourself how much time you have, how old your roof is, and the area you'd need to be repaired. If you only need to fix a few small areas of your roof, you can buy some shingles and pay for roofing services.
Our team understands how devastating a leaky or damaged roof may be for you and your family. We know the risks of structural damage to your house's interior when it happens.
This is why we take our commitment to quality so seriously and will go above and above to provide you with long-term effects and complete contentment.
When Does Age Determine Your Need for a Roof Replacement?
The duration of a roof under typical circumstances is determined by several variables, including the materials utilized and the quality of labor.
Some materials are more robust than others, and they can endure greater extremes of weather without decaying. Here's a quick rundown of how long the most popular roofing materials last:
Asphalt shingles usually last between 15 and 30 years
Architectural shingles, which are premium asphalt shingles, typically last for 25 to 30 years
Wood shingles can last up to 30 years, but they require more maintenance to last that long
Wood shakes often last between 35 and 40 years with appropriate care
Clay tile roofs can last more than 50 years with proper maintenance and immediate repairs to damage
Cement tile roofs can last over 60 years
Metal roofs can last up to 70 years
Slate roofs can last more than 100 years
There are several different sorts of roofing, each with its warranties. Although slate tiles are known to last a century or more, they usually only have 50-year contracts.
The bottom line with any roofing material is that it deteriorates over time. The more your roof deteriorates, the less able it safeguards your house, family, and valuables.
Signs Your Roof is Damaged
Roofing damage isn't always easy to identify, especially from the ground or within the attic. You can do a visual inspection and look for the following signs:
Curled, cracked, or missing shingles
Shingles that have "bald spots" where the granules have worn off
Extreme temperatures in your attic
Leaks coming into your home
Mold, mildew, or moisture in your attic
Missing or worn flashing around your chimney or the vents
Moss and algae growth
High energy bills that you can't attribute to the way you're using energy in your home
Signs can be obvious or subtle, depending on the situation. Signs might be active or passive, depending on the circumstances. Because of this, we always recommend that homeowners schedule a roof inspection with us. We'll send a trained inspector to your house at a time that is convenient for you.
Your roofing inspector will examine every square inch of your roof (including the inside from your attic) for signs of damage. Having a professional roof inspection is, without a doubt, the best method to tell whether your roof needs to be replaced.
Do you need an emergency roof repair? Call Us Today
Commercial Roof Replacement Process
It might not be easy to distinguish whether you need a new roof. However, these telltale symptoms may signal that your roof needs to be replaced:
Leaky roof. When a lot of water enters the house, it creates stains on the inside ceiling. Check the attic for stains as well.
Storm damage. Shakes can be damaged by wind and hail, resulting in shingles that are cracked, lifted, or missing.
Time. If it's been more than 20 years since the last replacement, your roof is most likely nearing the end of its lifespan.
Residential Roof Replacement Process
Every situation is unique, but you can expect the residential roof replacement to go through these steps:
You'll have a professional inspect your roof.
You'll pick roofing materials that are appropriate for your property (and your budget).
Skilled roofing professionals will remove your present roof.
Your roofer will inspect the structural integrity of your wood frame below to ensure that it can support the weight of your new roofing system.
Moisture barriers will be installed on your roof by your roofers.
On top of the moisture barriers, new roofing materials are put in place.
The vents and other accessories are installed on your roof.
Roofers clean up the space and remove nails and other trash.
Trust Our Local Roofing Contractors
When you call our local roof replacement company, we'll ensure that your home is safe and secure. You can trust us with any roofing service or repairs; we provide the best customer service for all of your needs.
We offer excellent workmanship and fair prices. So when it comes to getting a new roof installed on your house, don't hesitate to call!
Frequently Asked Questions