Commercial Roofing Services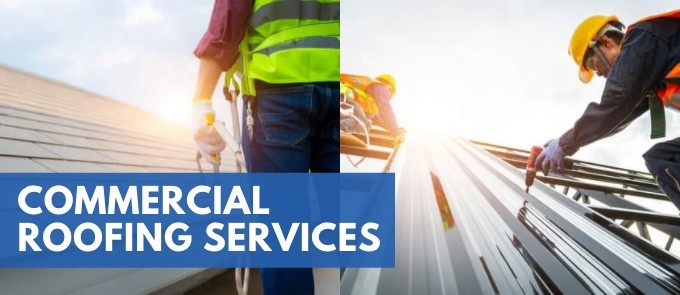 Get the expert commercial roofing services you need to control severe weather. We have many years of expertise in offering office roofing solutions. We work with a wide range of commercial roofing materials and can build, repair, and replace roofs.
We promise that every one of our repairs is completed to the highest standard. When you need to repair your business roof fast, we can also help.
Commercial roofing services are essential for any business that needs to keep its building or property protected. If you're in the market for commercial roofing services, look no further than our experts in your city.
Commercial Roofing Types
There are many commercial roofing types to choose from, but not all are the right fit for every building. Our experts can help you decide what commercial roofing type is best suited for your needs.
We offer a wide range of commercial roofing materials, including:
TPO Roofing Systems  (thermoplastic polyolefin)
EPDM Rubber Roofing Systems  (ethylene propylene diene monomer rubber)
Single Ply Membrane Systems  (low profile, lightweight commercial roof)
Tile Roofing Systems  (lightweight, durable commercial roofing material)
We have serviced multiple projects within your area, and our team can offer testimonials upon request. We have the best commercial roofing services in your city, so call us today for a quote!
Speak With Our Roofing Professionals Today!
Commercial Roof Repairs
When you need to schedule commercial roof repair services, we offer expert workmanship at a guaranteed price. Commercial roof repairs must be done quickly because severe weather conditions can cause serious damage to your property.
Our commercial roofing experts have repaired all kinds of roofs, and we're always available for last-minute appointments.
You don't need to worry about taking days off from work; our technicians are available seven days a week. We provide commercial roofing services, including emergency repairs, so you can feel safe that your property is fully protected at all times.
Our commercial roofers are knowledgeable about the process for serving local businesses and are more than happy to answer any questions you have.
Contact us now to request a price quote or schedule an appointment that fits into your schedule.
Commercial Roof Replacement
If your commercial roof requires replacement, our company can help. We understand that you want to get back on track as soon as possible without spending weeks waiting for the work to be completed. That's why we offer commercial roofing replacement services that are quick and affordable.
We utilize high-quality replacement commercial roofing materials that are guaranteed to last for years, so you don't have to worry about the roofs deteriorating again.
Our commercial roofers are certified and trained in all aspects of commercial roofing replacement so that you can trust us with your building's protection.
Commercial Roof Inspections
A thorough commercial roof inspection is necessary when you want to make sure your building is in the best condition possible. Our company offers comprehensive roof inspections to show our technicians everything we need to know about your roof.
Our commercial roofers will go head-to-head with any competitors in terms of pricing because we believe you shouldn't have to pay more for quality workmanship and products. Whether commercial roofing services or replacements, we're committed to providing our customers with the best possible service at a competitive rate.
Emergency Roof Repair
When you need roofing repairs immediately, we can help. We offer emergency commercial roof repair services that will get your building protected again in no time.
Our commercial roofers are never more than a phone call away; give us a call when you need immediate assistance, and our team will be there to fix the problem ASAP.
We can provide emergency repairs for commercial roofs in any weather conditions, so you never have to worry about an unexpected storm causing damage.
We Have You Covered
Alpine Roofing Construction is the name to trust when you need a new roof. Whether your roof has suffered storm damage or age-related issues, we can help. From the minor repairs to an entire roof overhaul, our team has the expertise to get the job done.
Your best defense against commercial roofing damage — and the easiest way to avoid having to pay for a new roof — is a manageable maintenance program. You can extend the life of your commercial roof by years if you have your roof regularly inspected by an Alpine roofing technician for necessary maintenance and repairs.
Work With the Best Commercial Roofing Company
Let our experts take care of your commercial roofing needs. Our team is experienced in working with any commercial property, whether a warehouse or hotel.
We have extensive experience in roofing materials, including metal roofs, rubber roofs, copper roofs, concrete tile roofs, and more.
We are committed to providing timely service that will help you avoid costly delays for your business operations. Call today for a quote on whatever kind of commercial roofing services you need!
Do you need an emergency Roof repair? Call Us Today
Frequently Asked Questions